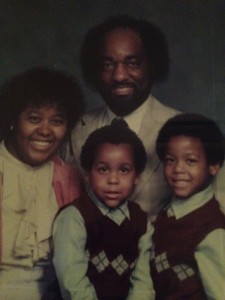 I've been involved in music since I was 5 years old.
I remember the day I started singing in my Family Gospel group, 'The Meekins Family'. It was the fall of 1986, My Mom was booked for a singing engagement and my Dad accompanied her on Piano. Normally my brother and I would sit in the church pews drawing pictures in the church bulletin, or making fun of the old church deacons.
This day was different. I knew there was something I had to do!
Prior to my Mom's singing engagements she would drive around with the music (Shirley Caesar) blasting through the car stereo. Listen to a song, rewind the tape and repeat. This is how she learned the songs that she was going to sing (remember it's the 80's). My brother and I would be in the backseat learning the song right along with her.
Sooo..we're at my Mom's singing engagement at the church and I notice she's singing the song and my Dad is playing the music, but there was something missing. There were no background vocals! I remember elbowing my older brother while my Mom was singing and looking at him like, "You know what we have to do right?"
So, little five year old Jason gets up from the church pew and I walk right down front next to my Mom and I start singing background vocals with my Mom. My brother would followed me up there too. Mom couldn't do anything but smile while she sang her song. My brother and I , 5 and 6, sand BGV's in parts, I sang alto and Jon took the lower part.
The whole church reacted with handclaps and encouraging comments as we finished the song. This is all on VHS somewhere at my folks' house.
My Mom would then go on to explain to the crowd that what happened was not planned and was just as much a surprise to her as it was to them.
I remember talking bout what happened at the Church all the way home. My parents were tickled, they had been in various funk bands in the 70's…I don't think they ever expected to have a singing family band!  That was my first gig, first experience with music and it was a very positive one.
The Meekins Family would go on to Minister the Gospel through song for another 20 years!